What's the Best SSD For My Setup?
One of the most significant upgrades you can make to any PC is transitioning from platter HDD to an SSD. A good SSD can be up to ten times faster than the slowest HDD, making it an invaluable upgrade for gamers. I'm not going to go into the nitty-gritty of the differences between the two in this article. If you're curious, you can check out this HDD vs. SDD comparison.
SSDs come in three main formats. If you have a newish motherboard from around 2017 or so, your motherboard probably has an M.2 slot. PCIe and M.2 SSDs are inherently faster than SATA SSDs because these slots offer more bandwidth. Think of PCIe and M.2 as eight-lane expressways, while the SATA connector is more like a two-lane highway. I've explained the difference between SATA, M.2, and PCIe interfaces in more depth in another article.Here's a look at the best 1TB SSD you can buy, based on several different factors.
For older motherboards and price-conscious consumers, the Samsung 860 Evo 1TB is a great starter SSD. It strikes a good balance between price and performance and will offer a noticeable upgrade over a 7200RPM HDD.The sequential read/write speeds for this Samsung SSD are 550MB/s and 520/MBs respectively. The drive connects using the SATA connection, but there is a version of this drive that comes in the M.2 form factor. The SATA version uses SATA III 6Gbps to achieve its read/write speeds.
Note: Out of all the SATA SSD drives available, Samsung has consistently shown the best performance for its price. Samsung drives tend to cost more than rival SSDs from Crucial and Western Digital, but their performance ranks higher. You may be able to get a performance upgrade cheaper by opting for Crucial or Western Digital drives. Steer clear from Seagate drives for a variety of reasons.
If cost is no factor and your motherboard supports the M.2 form factor, then the SD Black SN750 1TB NVMe SSD should be considered. These drives come in a variety of capacities ranging from 250GB up to 2TB. The 1TB option hovers around ~$220 on Amazon, making it more expensive than most SATA SSDs.However, this M.2 SSD's performance will blow all SATA drives out of the water. It offers transfer speeds of up to 3,470 MB/s or more than six times the speed of the Samsung 860 Evo 1TB SSD listed above. You can even purchase this drive with an additional heatsink to help keep your rig cool.
There are cheaper M.2 PCIe format SSDs available on the market, but the performance of the SD Black SN750 is undeniable. Most other drives of this format reach read/write speeds that are half of what this drive offers.Note: Make sure your PC will support this type of drive before you go all in. It requires a drive that supports the M.2 NVMe format. You can learn about the differences between NVMe and SATA formats in this detailed article.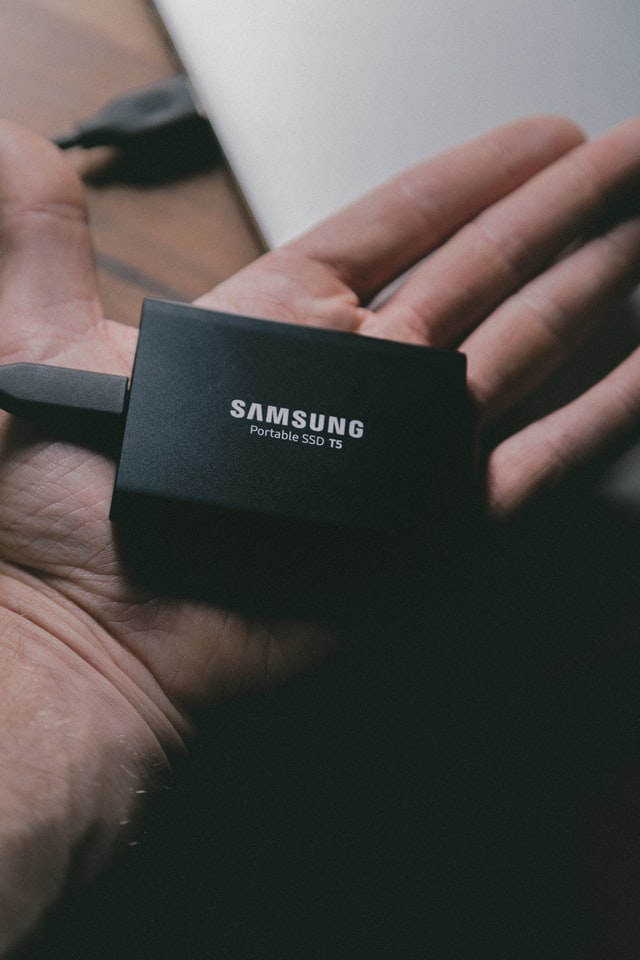 You can add an extra SSD drive to your PC without opening it up with an external SSD. The Samsung T5 Portable SSD comes in a variety of capacities from 250GB up to 2TB. The drive offers read/write speeds of up to 540MB/s all in a portable form-factor with a USB-C connector.
The USB-C connector makes this drive compatible with PCs, Macs, iOS, and Android devices. The form factor of this device makes it easy to throw in your everyday carry, too. The drive is about the size of the palm of your hand.Portable SSD drives are great for transferring photos, video, and other files off of mobile devices. The transfer speeds make the process very smooth and quick. You can also use these drives with gaming consoles like the PlayStation 4 and Xbox One. The drive is more external instead of portable in that case since it needs to remain connected to the console to function.
The default hard drives that ship in both the PlayStation 4 and the PlayStation 4 Pro is from 2011. This HDD is slow and causes long loading times in games, even for the PS4 Pro model. You can buy and use an external SSD to speed up loading times, but that doesn't solve the sluggish PS4 menu.If your warranty period has already expired and you want to upgrade your drive, the WD Blue 1TB SSD is perfect.
Sony left limited space inside the PS4 for adding a new drive, so you have to be careful about which SSD you buy. This WD Blue 1TB SSD has been confirmed to fit inside the PS4/PS4 Pro. Game load times and the system menu will be much more responsive.This SSD upgrade for the PS4 hovers around ~$115 for now. If you want to throw in some extra cash, you can double your storage space with the 2TB version of this drive.
What about the Xbox One?
The Xbox One internal drive can be upgraded to support SDD, but it's more of a hit and miss upgrade compared to PS4. Unlike the PS4, you might not see a significant upgrade in dashboard performance on the Xbox One.You will definitely see a performance increase in load times, so an external SSD is often recommended for Xbox One gamers.
The Best SSDs for Xbox One
Samsung T5 Portable SSD
WD My Passport Go 1TB SSD
SanDisk 1TB Extreme Portable External SSD
Note: Steer clear of the Xbox-branded portable SSD drives. Microsoft partnered with Seagate to create these drives, which are often out-classed by their rivals. Seagate doesn't have the most reliable reputation among SSD enthusiasts, either.